---
Canvas Discussions can be a great way to encourage class interactions, of the sort we might normally seek from in-class discussions. Although less interactive than an online teleconference, they are more flexible to meet student schedules and limitations of student access.
This is a simple guide to getting started with a basic discussion board on Canvas.
1. Once you've opened your course on canvas.uw.edu, click the "Discussions" link in Course Navigation.
2. Begin a new discussion with the "+Discussion" button.

3. Enter the discussion title (1) and question prompts (2) for your new discussion thread. On the right side of the screen (3) there is a toolbox for adding files, images, and links to other Canvas course content. 

4. Double-check the discussion options.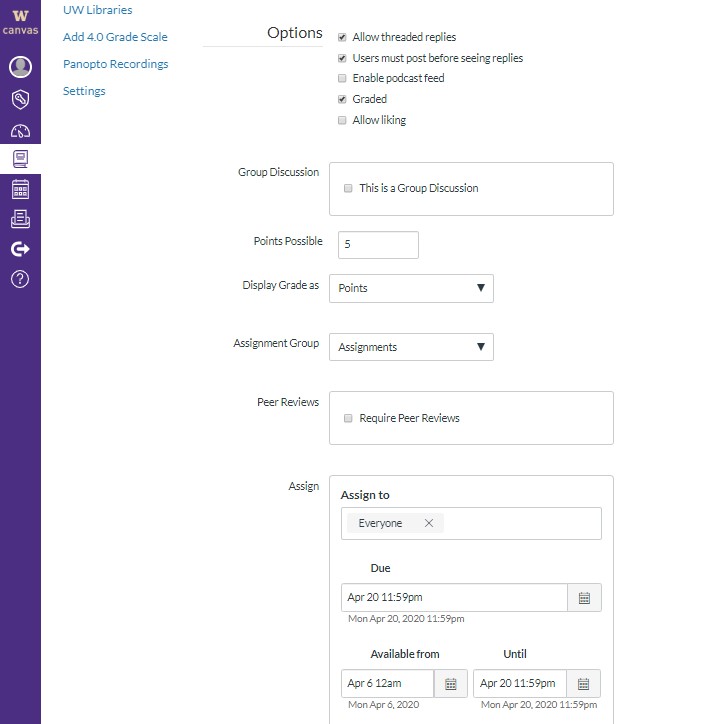 5. There are several options for configuring your discussion:
For a free-form discussion with maximum student interactivity, we recommend checking "Allow threaded replies" and "Users must post before seeing replies." 
Check the box next to Graded if you want to make participation in this discussion a graded assignment. Graded discussions will automatically display in a student's to-do list.
Normally you will

not

want to check "This is a group discussion."
6. Click the Save button to save your progress in draft mode or click Save & Publish to make the discussion visible to students. If you entered dates into the "Available From … Until …" boxes, then the discussion will be visible to students immediately, but they will not be able to write a response until the date specified.
7. You can always preview your course to ensure you used the proper settings. In your Canvas course, choose Settings from the list of course pages on the left side, then on the right-hand panel click Student View.
8. When assigning discussion board work be sure to clarify expectations and good netiquette. Some items to consider including: clarify that all college communication should use proper spelling and grammar; ask students to keep posts legible by using standard fonts and avoiding slang or emojis; ask for posts to be on topic, clear and concise; ask for proper credit when students reference another source; ask students to read all posts before replying.