Graduate Student Career Resources
Visit our Career Preparation page for information on trainings, teaching courses, portfolios and mock interviews.
College to Career for History Majors & Alumni
Are you considering declaring your major in History and would like to know what careers might be available to you after college? Have you already declared your major in History and would like to find out how to build career skills now? We are here to help!
Potential Careers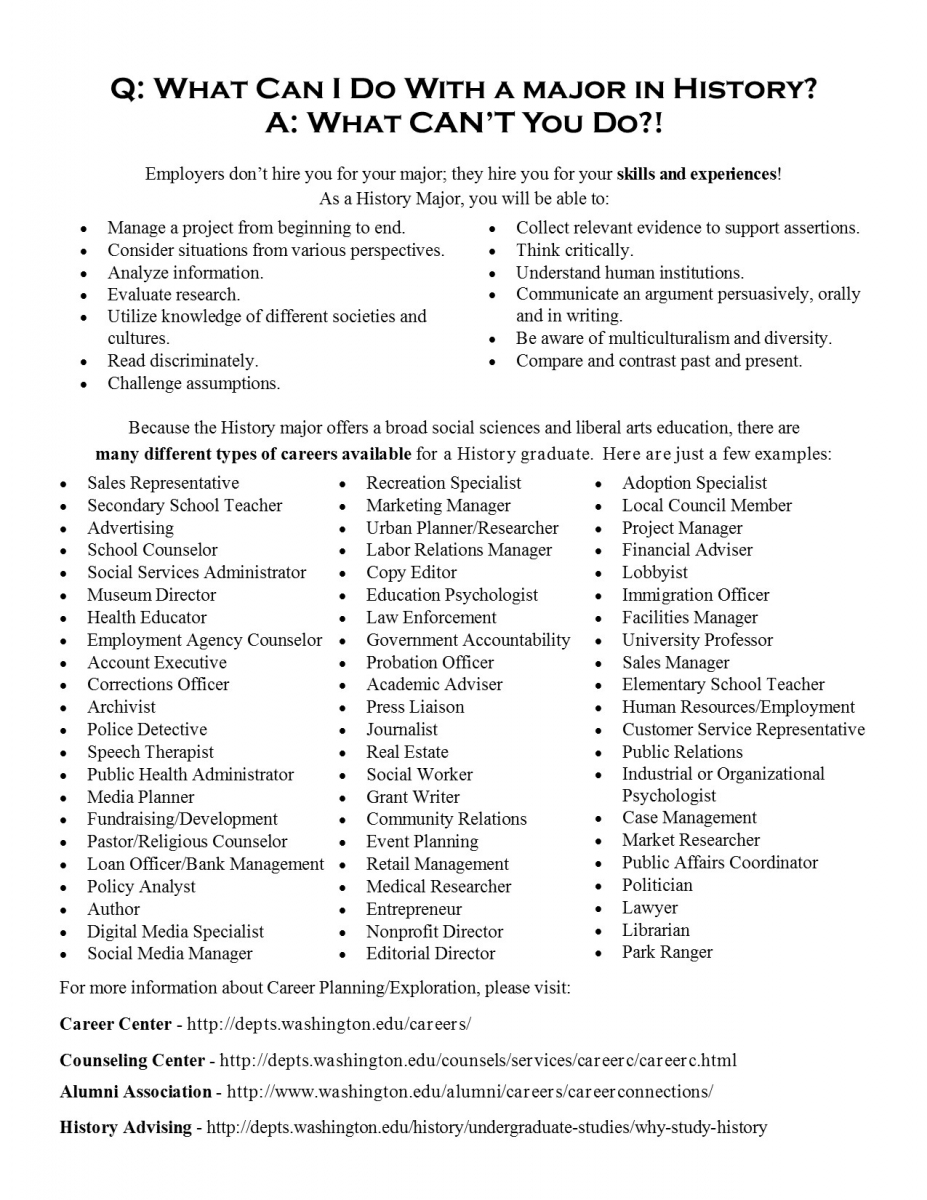 Although only a small number of History Majors ultimately go on to pursue careers as professional historians, our graduates have been wildly successful in a variety of fields. An undergraduate degree in History is excellent preparation for law school and business school, and many of our former students have pursued careers in those professions. Others have excelled in teaching, journalism, museum work, research, information management, technology, the military, politics, medicine, public health, social work, and even broadcast comedy and professional football, just to name a few.
In recent years, moreover, nationwide studies carried out by Georgetown University and the American Historical Association have found that history majors earn some of the highest salaries among graduates in the Humanities. We regularly post articles and information related to careers on our Facebook page - "Like" our page to receive all the updates!
Career Discovery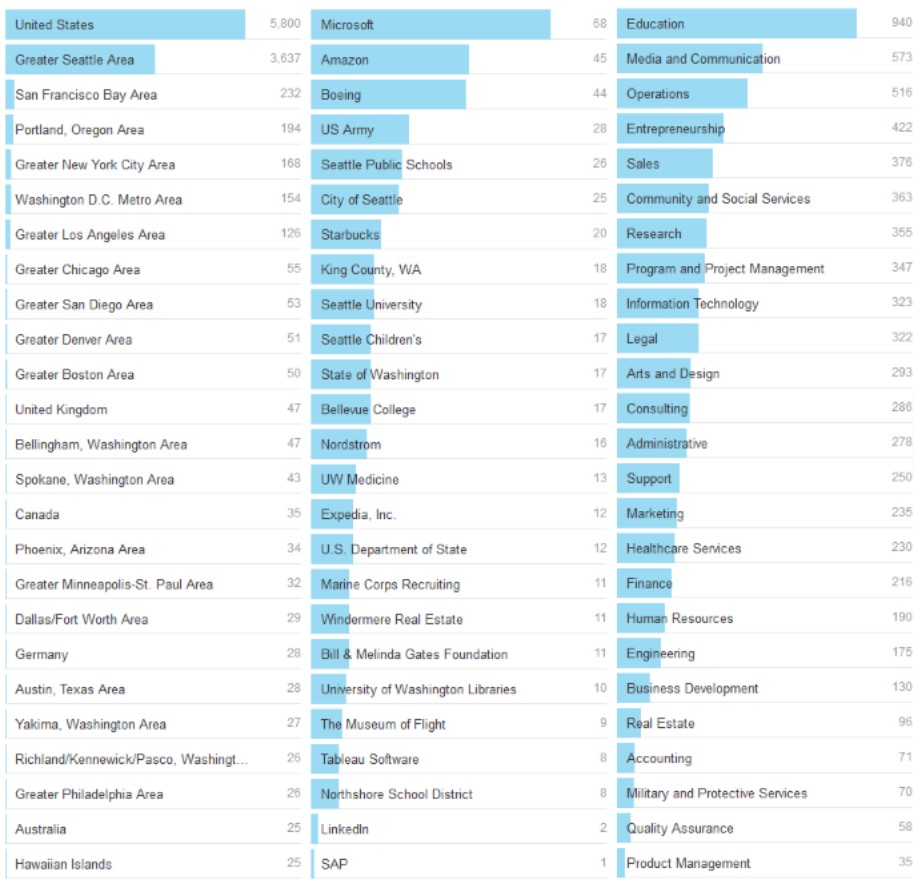 The snapshot here is from the University of Washington LinkedIn Page and highlights the regions, companies and industries in which over 6,000 alumni who studied History are employed. The History Undergraduate Advising Office also maintains a LinkedIn page specifically for History Majors & alumni to connect with each other. Try browsing these websites on LinkedIn to begin thinking about which careers may be of interest to you, and then connect with alumni working in those fields!
You may also want to consider career paths along the lines of three distinct categories:
History major is required or preferred and the job's primary responsibilities directly relate to your major
Your major is required or preferred but the job's primary responsibilities aren't directly related to History
Your major isn't required or preferred but your other transferable skills make you highly qualified
Click here for more information about Career Paths for History Majors.
Click here to read news about #IHeartUWHistory alumni and their careers.
Click here to access Handshake via the UW Career & Internship Center.
Career Preparation Opportunities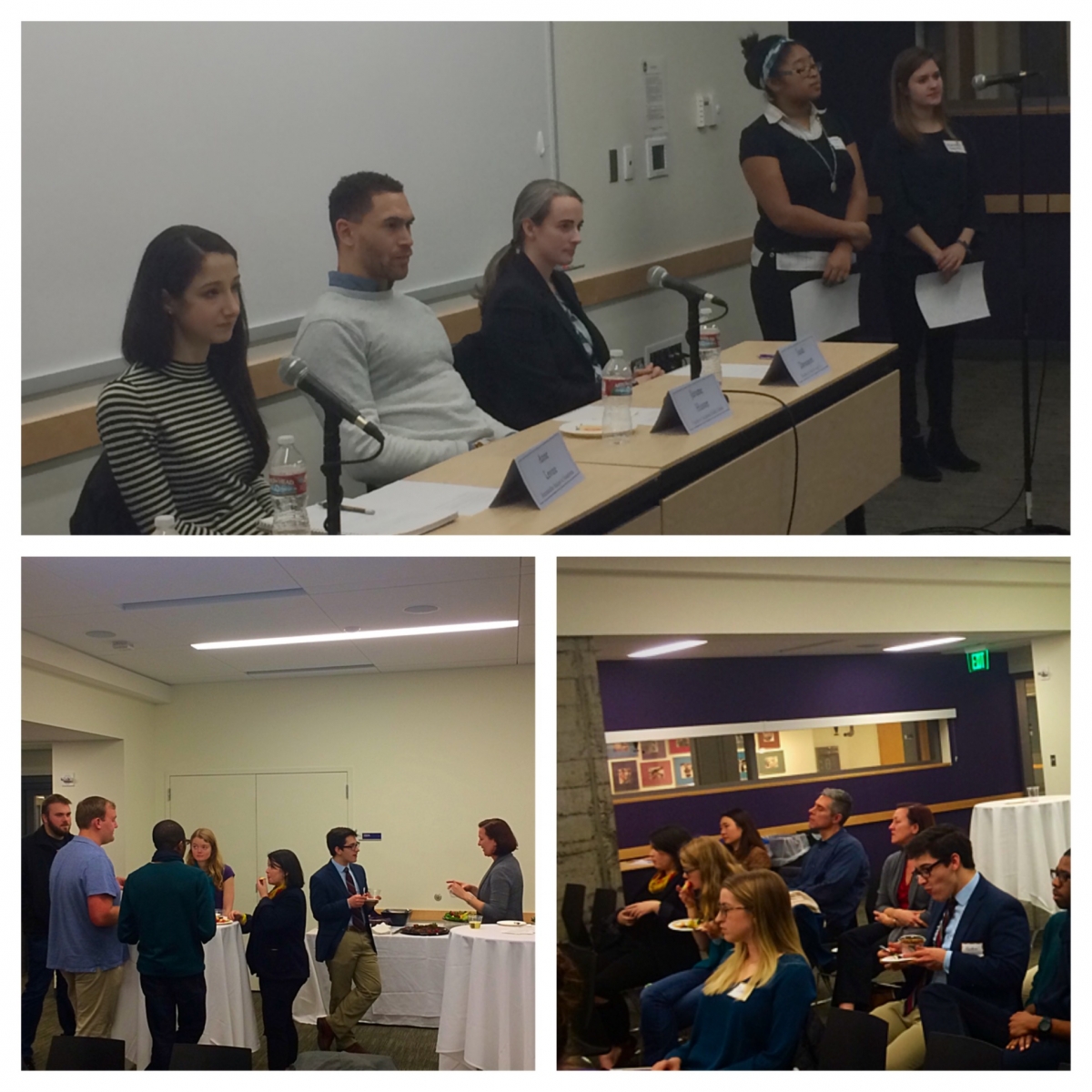 The Department of History offers a number of ways for you to develop and articulate your transferable skills.
HSTRY 495 History Internship is a course available to any History Major who will participate in an internship and wishes to work with a faculty member to develop an academic component, usually a paper or other cumulative project. It is available for 1-5 credits.
History Fellows is a 3-quarter series of courses that offers career workshops on writing strong résumés, enhancing interview skills, and building networks. Fellows research diverse career fields and participate in internships to gain practical experience.
Alumni Events showcase Department of History alumni working in a wide variety of fields, including Education, Media & Communication, Entrepreneurship, Community & Social Services, Research & many more! Events also include opportunities for networking with classmates & with alumni.
Finally, the Advising Office is here to support prospective & current History Majors with transferable skills assessment & career discovery. We maintain close connections with the UW Career Center & make referrals as needed!
Alumni Connections
Department of History Alumni, we want to hear from you! Check out the department's LinkedIn page and join the conversation with other alumni. Interested in serving as a mentor to a current History student or participating in a future career event? Please email histadv@uw.edu and let's make it happen!