Dynamic, diverse, and intellectually challenging, the Department of History cultivates in undergraduates a lasting curiosity about the world, and imparts useful tools for understanding and participating in it responsibly. History alumni have used their degrees to pursue dynamic careers in a variety of fields and industries. At the University of Washington, history majors have access to large lecture classes and discussion-based seminars, diverse course offerings taught by outstanding faculty, independent research opportunities, study abroad opportunities, and a rich intellectual community.
As outlined by the American Historical Association, the History Discipline Core Concepts are:
As an inquiry into human experience, history demands that we consider the diversity of human experience across time and place.

As a public pursuit, history requires effective communication to make the past accessible; it informs and preserves collective memory; it is essential to active citizenship.

As a discipline, history requires a deliberative stance towards the past; the sophisticated use of information, evidence, and argumentation; and the ability to identify and explain continuity and change over time. Its professional ethics and standards demand peer review, citation, and acceptance of the provisional nature of knowledge.
Potential Careers
Although only a small number of History Majors ultimately go on to pursue careers as professional historians, our graduates have been wildly successful in a variety of fields. An undergraduate degree in History is excellent preparation for law school and business school, and many of our former students have gone on to get advanced degrees and pursued careers in those professions. Others have excelled in teaching, journalism, museum work, research, information management, technology, the military, politics, medicine, public health, social work, and even broadcast comedy and professional football, just to name a few.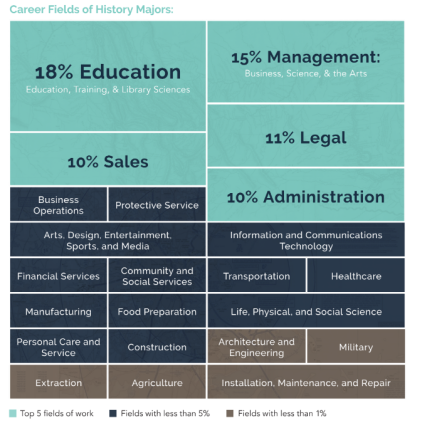 Source: The American Historical Association
In recent years, moreover, nationwide studies carried out by Georgetown University and the American Historical Association have found that history majors earn some of the highest salaries among graduates in the Humanities. Because of the diversity of careers that humanities majors—particularly history majors—go into, there is a wider-than-­average distribution of incomes based upon field of work, as shown in the graph below.
Source: the American Historical Association.
History Majors on the Job Market
A History degree provides a very broad skillset, ensuring graduates are employable in a wide variety of fields. Although many employers seek out History and Humanities graduates to hire, we can't assume every employer fully understands the value that a History degree represents. When explaining how your degree has prepared you for the job market, here are some key points to keep in mind. As a History major, you are able to:
Communicate an argument persuasively, both orally and in writing
Manage a project from beginning to end
Collect relevant evidence to support assertions
Consider situations from various perspectives
Think critically and challenge assumptions
Analyze information and evaluate research
Use computer software to analyze data and information
Utilize knowledge of different societies and cultures
Practice empathy when working with colleagues, customers, and clients
Understand

 and discuss complex questions around race, identity, and equity
For more information about studying history:
If you are interested in taking courses or declaring a major or minor in History, please do not hesitate to contact our Undergraduate Advising Office at histadv@uw.edu. Our Undergraduate Adviser, Mark Weitzenkamp, and our Director of Academic Services, Tracy Maschman Morrissey, would be glad to assist you.