Associate Professor
Isaac Alhadeff Professor of Sephardic Studies
Sephardic Studies Program Chair
Director of Graduate Studies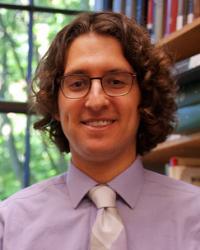 Biography
Ph.D. Stanford University, 2011
B. A. Washington University in St. Louis
Dr. Devin E. Naar is the Isaac Alhadeff Professor in Sephardic Studies, Associate Professor of History, and faculty at the Stroum Center for Jewish Studies in the Jackson School of International Studies at the University of Washington. From New Jersey, Dr. Naar graduated summa cum laude from Washington University in St. Louis and received his Ph.D. in History at Stanford University. He has also served as a Fulbright fellow to Greece.
His first book, Jewish Salonica: Between the Ottoman Empire and Modern Greece, was published by Stanford University Press in 2016. The book won the 2016 National Jewish Book Award in the category of Research Based on Archival Material and was named a finalist in Sephardic Culture. It also won the 2017 Edmund Keeley Prize for best book in Modern Greek Studies awarded by the Modern Greek Studies Association. It was translated into Greek by Alexandria Press in Athens in 2018.
Jewish Salonica explores the impact of the collapse of the Ottoman Empire and the rise of modern Greece during the 19th and 20th centuries on the Jews of Salonica (Thessaloniki), an Aegean port city that was once home to the largest Judeo-Spanish-speaking Jewish community in the world. The book traces the multiple ways in which Jews in Salonica grappled with the end of the Ottoman Empire and their new-found position within the context of the Greek state during the early twentieth century. Drawing on a wide range of previously unstudied primary sources, such as archives and newspapers primarily written in Judeo-Spanish as well as Greek, Hebrew, and French, Jewish Salonica is the first book to tell the story of the tumultuous transition from empire to nation-state through the voices and perspectives of Salonican Jews themselves.
As a fellow in the Society of Scholars at the Simpson Center for the Humanities at the University of Washington in 2013-2014, Dr. Naar began his second book project, Reimagining the Sephardic Diaspora. This book explores the dispersal of Sephardic Jews from the dissolving Ottoman Empire during the early twentieth century and the creation of new Sephardic communal hubs in Europe and the Americas—including Seattle. By focusing on the multiple directions of transnational migration, the links Sephardic Jews retained with their native communities, and the relationships they developed with other Jews and migrants from the Mediterranean, this project compels us to reconceptualize the geographic and theoretical lines between the "old world" and the "new."
At the UW, Dr. Naar teaches courses linked to his areas of research, including modern Jewish history; Jewish culture from antiquity until today; Sephardic history and culture; the history and memory of the Holocaust; relations between Jews, Christians and Muslims in lands of the former Ottoman Empire; migrations from the Mediterranean world to the Americas in the twentieth century; and a graduate seminar on Jews, Cities, and Empires. He also supervises MA and PhD students in fields such as modern Jewish history and culture, Sephardic Studies, and transnational studies.