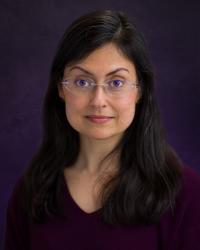 Contact Information
Office Hours:
AUT 20: Please contact to set up a virtual appointment.
Biography
Ph.D. University of Virginia, Charlottesville, January 2003
My research interests encompass the social and cultural history of early modern South Asia, 1500-1800. The ways in which religious, linguistic, and status identities shaped the political and cultural institutions of the Mughal period is central to my work. My teaching ranges from classes in South Asian history, the Mughal Empire, to classes in Environmental History. As an early modernist who works with literary and visual sources, my work is interdisciplinary, and as a result I have welcomed the opportunity to work with colleagues in other disciplines. I have an adjunct affiliation with the Near Eastern Languages and Civilization Department (URL: http://depts.washington.edu/nelc/) and also am a member of the faculty at the South Asia Center in the Jackson School of International Studies (URL: http://jsis.washington.edu/soasia/).
My first book, When Sparrows Became Hawks: the Making of Khalsa Martial Tradition examined the extraordinary transformation of North Indian peasants into high-status warriors as they became members of the Sikh warrior order, the Khalsa. My analysis of underutilized Persian and Punjabi sources demonstrated that the shaping of new social identities, such as that of the Sikh warrior, could not be understood solely through an economic analysis of the rise of peasant soldiers, or through a study of the religious beliefs of Sikhs. The aspirations of individual Sikhs had a profound effect on the diverse Sikh communities, as well as the lives of their rivals and neighbors. The conflicts and debates sparked by the dramatic social mobility of the eighteenth century fueled a wider military conflict with regional rivals in North India. But conflict between these groups also led to attempts to create some common ground between feuding parties. An important contribution of my book is a detailed analysis of such processes, and particularly the role of cultural innovation, including new ceremonies, public displays, and the shaping of new imagined worlds in these reconciliations.
My second book project, The Lords of the Pen: Literary Associations in Early Modern South Asia, examines the literary activities of poets in emerging urban centers of the Mughal Empire to understand how participation in literary associations shaped understandings of caste, gender, and religious identity. This work engages with larger questions of how notions of the "public" and "common good" emerged in different parts of the world. As South Asia did not have an active print culture until the late nineteenth century, there is considerable debate about the presence or absence of a public sphere in South Asia prior to the colonial period. I examine vidence of the common circulation of ideas regarding public welfare, governmental ethics, and civic sense that emerges in sources from the period. Thus, looking at the memoirs, correspondence, and anthologies of poets from this period, it is possible to trace how such ideas circulated in both oral and written texts.