Assistant Teaching Professor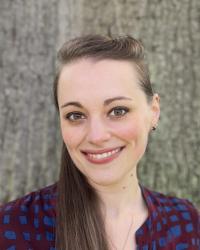 Biography
Ph.D., Art History, University of Washington, 2019
M.A., Art History, University of Washington, 2013
B.A., University of Oklahoma, 2010
Museums have always been spaces of learning and solace for me. While earning my undergraduate degree in Art History at the University of Oklahoma, I landed an amazing role working between the School of Art, art media library, and Fred Jones Jr. Museum of Art. I knew what I wanted to do with my life early on and was fortunate enough to pursue it.
I've always been drawn to the intersection of museums and education. While working toward my master's and then PhD in art history at the University of Washington School of Art + Art History + Design, I also taught classes at Seattle University, and Cornish College of the Arts. At the same time, I took as many museum jobs as I could while balancing teaching, research, and writing, mostly serving in curatorial and collections roles at the Henry Art Gallery, Museum of Pop Culture, and Burke Museum of Natural History and Culture.
Before joining the faculty at UW, I worked as the Associate Curator at Bellevue Arts Museum, a local institution that focuses on modern and contemporary Pacific Northwest artists, designers, and craftspeople.
Dean's Medal Nominee, School of Art + Art History + Design, University of Washington, 2019
Miceal Vaughan Textual and Manuscript Studies Award, Textual Studies Program, University of Washington, 2019
Julaine Martin Endowed Scholarship in the Arts, Division of Art History, University of Washington, 2018
Textual Studies Program Graduate Research Award, Textual Studies Program, University of Washington, 2018
Art Innovation Award, University of Washington, 2018
Graduate School Fund for Excellence & Innovation Travel Award, University of Washington, 2017
Elmer Capshaw Award for Outstanding Senior in Art History, University of Oklahoma, 2010
Donald Clark Award for Excellence University of Oklahoma, 2010
Dean's Honor Roll University of Oklahoma, 2008-2010
Steed Grant University of Oklahoma, 2009