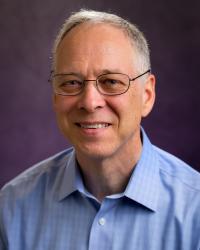 Contact Information
Office Hours:
W 1:30-3:20 & By Appointment
Biography
Ph.D., University of California, Berkeley, 1982
John M. Findlay works on the history of the North American West and Pacific Northwest. He has written especially on social and urban history, with a particular focus on the 20th century. His books include People of Chance: Gambling in American Society from Jamestown to Las Vegas (Oxford University Press, 1986); Magic Lands: Western Cityscapes and American Culture after 1940 (University of California Press, 1992); and Atomic Frontier Days: Hanford and the American West, with Bruce Hevly (University of Washington Press, 2011).
His current book project is a scholarly overview of the American West after Pearl Harbor, tentatively titled "The Mobilized West, 1941-2001." Professor Findlay has written articles and chapters on such topics as Indian reservations in 19th-century California; utopianism in the American West; regional identity and literature in the Pacific Northwest; Euro-American contact with Natives in the Great Basin; world's fairs of Washington state; the nuclear West; the history of the University of Washington; and the historiography of the American West.
He has also co-edited three multi-author volumes that had their origins as symposia at the University of Washington's Center for the Study of the Pacific Northwest: The Atomic West, eds. Bruce Hevly and John M. Findlay (1998); Power and Place in the North American West, eds. Richard White and John M. Findlay (1999); and Parallel Destinies: Canadians, Americans, and the Western Border, eds. John M. Findlay and Ken Coates (2002). Professor Findlay has supported other people's research and teaching about the Pacific Northwest by serving as Managing Editor of Pacific Northwest Quarterly, 1992-2003 and 2008-2015, and as Director of the Center for the Study of the Pacific Northwest (1991-99, 2005-6). Professor Findlay also served as Chair (2002-7, 2010-11) and Associate Chair (2011-12) of the UW Department of History.
Graduate Students
Professor Findlay offers graduate fields on the North American West. He has directed dissertations on such topics as historic preservation planning in downtown Seattle during the 1960s and 1970s; cars and America's national parks; military-civilian relations around Puget Sound during the 20th century; city planning in Tacoma, 1870-1920; suburban communities in the post-war U.S.; the development of theater in Spokane, 1880-1920; the discourse of gender and race in the gold rushes to California and British Columbia; African American musicians and segregation in Chicago, 1920-1970; the urban Indians of Seattle, 1850-2000; and acculturation and allotment on the Puyallup Indian reservation, 1850-1935.
Undergraduate Students
Professor Findlay annually offers HSTAA 110 (History of American Citizenship) and HSTAA 432 (Pacific Northwest History).  He occasionally offers HSTAA 413 (the modern American West), and ofte offers variations of HIST 388, HIST 494, and HIST 498 colloquia. He infrequently offers HSTAA 412 and HSTAA 433.