Associate Professor
Director of Graduate Studies
Director, African Studies Program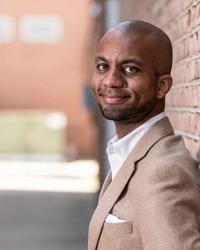 Biography
Ph.D., History, University of Michigan, 2015
M.A., History, University of Michigan, 2012
B.A., History, Duke University, 2009
Christopher Tounsel is an historian of modern Sudan, with special focus on race and religion as political technologies. His first book, Chosen Peoples: Christianity and Political Imagination in South Sudan, was published by Duke University Press in 2021. Chosen Peoples explores the ways that Southern Sudanese intellectuals used Judeo-Christian Scriptures to frame their revolutionary work against the Sudanese state. Chosen Peoples was named a finalist for the Association for the Study of the Worldwide African Diaspora's Outstanding First Book Award and was also a finalist for the 2022 Christianity Today Book Award (History/Biography section). Dr. Tounsel's articles have appeared in peer-reviewed journals including the Journal of Religious History, Journal of African American History, Journal of Eastern African Studies, Journal of Africana Religions, and Social Sciences and Missions.
In addition to his historical research, Professor Tounsel provides commentary on current events in Sudan and South Sudan. He has written for The Conversation and has been interviewed by BBC World Service Radio, Al Jazeera English, Radio Miraya (South Sudan), BeFM (South Korea), and Power FM (South Africa). Dr. Tounsel has also provided interviews for Christianity Today, Radio France Internationale, Vox, the Chicago Council on Global Affairs, and the Carnegie Council for Ethics in International Affairs, and he has given lectures for university units based in the United States, England, the Netherlands, Scotland, South Africa, and Uganda. 
Support for Professor Tounsel's research has come from institutions and organizations including the Woodrow Wilson National Fellowship Foundation (now Institute for Citizens & Scholars), Andrew W. Mellon Foundation, Social Science Research Council, Council of Overseas American Research Centers, and Doris G. Quinn Foundation.
Dr. Tounsel's second book, Bounds of Blackness: African Americans, Sudan, and the Politics of Solidarity, will be published by Cornell University Press in 2024. Bounds of Blackness explores the history of Black America's intellectual and cultural engagement with the modern state of Sudan. While ancient Sudan occupies a central place in the Black American imagination as an exemplar of Black glory, pride, and civilization, contemporary Sudan--often categorized as part of "Arab Africa" rather than "Black Africa"--is often marginalized. Bounds of Blackness unpacks the vacillating approaches that African Americans have taken to the Sudanese state and its multiethnic populace through periods defined by colonialism, postcolonial civil wars, genocide in Darfur, and South Sudanese independence. By exploring the work of Black intellectuals, diplomats, organizations, and media outlets, the book shows how this transnational relationship reveals the robust yet capricious terms of racial consciousness in the African Diaspora. 
Professor Tounsel is the Director of the African Studies Program, an Executive Board Member of the Walter Chapin Simpson Center for the Humanities, and an affiliate faculty member of the Comparative Religion Program. 
Finalist, 2022 Association for the Study of the Worldwide African Diaspora (ASWAD) First Book Award
Finalist, 2022 Christianity Today Book Award (History/Biography)
2019 Career Enhancement Fellow, Woodrow Wilson National Fellowship Foundation
2015 Doris G. Quinn Foundation Fellow
Division: Africa & the Middle East
Students may work with Professor Tounsel to develop a field in African history focused on
North Africa and/or sub-Saharan Africa during the colonial and postcolonial eras. The field
could concern social, political, religious, and economic subjects of study including slavery and
abolition, the Scramble for Africa, resistance and nationalism, Pan-Africanism, Christianity and
Islam, and other subjects. Students will work with Professor Tounsel to develop a course of
study that incorporates canonical scholarship, general and nuanced coverage, and specific
themes tailored to their interests and needs.
Division: Comparative Histories (Comparative Colonialisms)
Students may work with Professor Tounsel to develop a field of Comparative Colonialisms that
focuses on 18-20 th century imperialism in Africa, Asia, and the Atlantic World. The field could
examine colonial regimes following the "Scramble for Africa," social and political connections
between Africa and the non-African world, and networks/solidarities forged between colonized
populations in Africa and beyond. Special attention is given to print media, state and non-state
actors, intra- and inter-state organizations, and religious institutions.
Division: Comparative Histories (Comparative Ethnicity and Nationalism)*
Students may work with Professor Tounsel to develop a field of Comparative Ethnicity and
Nationalism that focuses on racial, ethnic, and religious nationalism in the colonial and
postcolonial worlds. The field could explore such areas as Pan-Africanism, colonial and
postcolonial liberation movements, Church-State relations, political theologies, and politically-
active non-state actors.
Professional Affiliations
African Studies Association, Association for the Study of the Worldwide African Diaspora