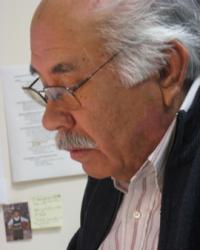 Biography
My intellectual evolution went into forward thrust, once arriving at the University of Washington, bolstered by my cultural roots, my U.S. Foreign Service experience in Latin America, and my doctoral work at UCLA completed just prior to arriving in Seattle. These experiences primed my ability to deepen my knowledge of Latin America by teaching related courses and conducting further research, endeavors that strengthened not only my world view but also helped propel me all the way to my last days on campus.
My grounding in the broad outlines of Modern Mexico (since 1821), combined with my doctoral research in local history (i.e., the Mascotan highlands of the State of Jalisco in west central Mexico) utilizing previously unexplored parochial documents such as court records and land registers, provided me with a critical understanding of historical change in developing countries. Life in Provincial Mexico: National and Regional History Seen From Mascota, Jalisco, 1867-1972 (UCLA Latin American Center, 1983) represents one outcome of this energy, a socio-economic, regional study partly inspired by then prominent investigators who employed the social sciences including quantitative methods to give greater depth to their historical work. Seeking to broaden my investigative regional familiarity I subsequently pursued topics centered in Mexico City eventually publishing a political history anchored on oral history interviews I conducted of the nation's top opposition leaders of the day (Hope and Frustration: Interviews with Leaders of Mexico's Political Opposition, SR Books 1992), an ill-treated political faction to be sure. This work led me to study Latin American economic and business history whose findings await completion.
My intellectual evolution was also shaped by my arrival at the University of Washington amidst the socio-political uproar of the early 1970s. This upheaval had the net effect of opening up higher education to hitherto neglected minority groups in Washington State and elsewhere, a situation that laid the groundwork for my being persuaded to launch Mexican American/Chicano History courses for undergraduates, a nascent field of study. I added this field to my catalog as a parallel specialization allowing me among other things to publish a Washington State centennial essay ("Washington's Hispano American Communities," in Sid White and S. E. Solberg, eds., Peoples of Washington: Perspectives on Cultural Diversity (Washington State University, 1989) and to offer a graduate seminar of note in this field, as indicated below, which ultimately benefitted numerous graduate students.
This parallel effort encouraged me to publish a biography of my family after my retirement: We Became Mexican American: How Our Immigrant Family Survived to Pursue the American Dream (2012, rev. ed., 2014), which is being readied in 2017 for publishing in Spanish.