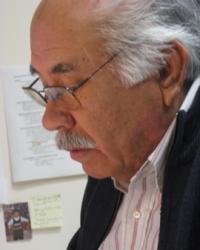 Biography
Professor Gil's stance toward the intellectual fields under his responsibility was shaped by his initiation into local and regional history when writing his doctoral thesis, his experience in the United States Foreign Service, and his personal heritage. These three approaches guided his scholarship and his teaching.
Gil's grounding in the broad outlines of Modern Mexico began with his doctoral study of the Mascotan highlands of the State of Jalisco in west central Mexico where he researched previously unexplored local records. Life in Provincial Mexico: National and Regional History Seen from Mascota, Jalisco, 1867-1972 (UCLA Latin American Center), published in 1983, represents the main outcome of this early effort.
Broadening his understanding of Mexican regional patterns, he subsequently pursued national topics centered in Mexico City, an effort that led to the publication in 1992 of Hope and Frustration: Interviews with Leaders of Mexico's Political Opposition (SR Books), a political history founded on oral history interviews of Mexico's top opposition leaders of the 1970's and 1980's.
When Professor Gil first arrived at the University of Washington in 1974, he was persuaded to launch Mexican American/Chicano history courses for undergraduates, a nascent field of study. This led to a parallel specialization in Mexican American or Chicano history, now referred to as Latino or Hispanic history. Gil's publishing "Lydia Mendoza: Houstonian and First Lady of Mexican American Song" (1981), in the Houston Review reflected this new direction, as did a Washington State centennial essay, "Washington's Hispano American Communities," in White and Solberg, eds., Peoples of Washington: Perspectives on Cultural Diversity (WSU Press, 1989). He also offered a graduate seminar known as The Hispanic Peoples of the United States.
Professor Gil served as program director for the Latin American Studies Program, which included shepherding it into the Jackson School of International Studies where it has resided ever since. He also took part in the effort that gave birth to the Ethnic Studies Department. His foreign service experience led to teaching Inter American Relations at UW and working as a consultant and trainer for various federal agencies in Washington D.C. including the U.S. Department of Agriculture.
Gil's Post-Retirement Activities
In his retirement Professor Gil published We Became Mexican American: How Our Family Survived to Pursue the American Dream (2012, 2014), a biography of his family emphasizing the social and cultural adjustments his immigrant family experienced. It is a tale of American immigration—from the south. A fragment of this work became "What a Century-Old Immigration Story Can Still Teach Us" in Spark, The Magazine of Humanities Washington (2021, Issue 1, pp. 21-24).
Off campus, with his wife, Barbara R. Deane, Gil co-founded The GilDeane Group, a training and consulting firm whose mission continues to be the promotion of workplace diversity and inclusion in private and public organizations.
More recently, Professor Gil has continued to teach various aspects of Latin America and Latino Studies via the Osher Institute at UW and the Humanities Washington office. He is also President of The Latino Development Organization Serving Latinos at the Monroe Correctional Complex.
[January 2021]