Submitted by
Xiaoshun Zeng
on
This year the Department of History teamed up with the UW Continuum College (UWC²) to retool two history courses to reflect the state of the art in distance learning. 
The courses were Professor Adam Warren's History of Mexico: Culture, Identity, and the Politics of Rule from the Aztecs to the Present and Dr. Eric Johnson's History of the Islamic World, 1453-1800. Both courses began as more traditional or hybrid courses in previous quarters, but were converted to fully online learning experiences with the help of UWC² for summer 2021. Student feedback was enthusiastic, and both instructors tell us we can look for the courses to be offered again in the future.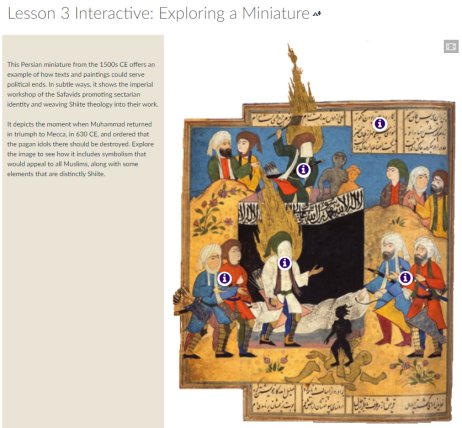 History of the Islamic World (1453-1800) focuses on the political history of the three major Islamic states of the early modern era—the Safavid, Ottoman, and Mughal Empires—while also engaging with aspects of social and cultural history, and exploring life in the Islamic peripheries. Johnson aims to put the Islamic world into a global context, highlighting the key role it played in the world systems of the early modern period, while also providing students with vital backstory for understanding events in the modern Middle East.
In History of Mexico, Warren introduces students to the long history of the United States' southern neighbor "from below." The course themes move from the negotiating of power relations in the Aztec and Spanish Empires to Mexican nation building, the Mexican Revolution and its aftermath, and the history of migration between Mexico and the United States. The course puts particular focus on how traditionally marginalized social groups have resisted discrimination and shaped Mexico's history.
Both courses were made possible by the expert work of UWC² and one of its senior instructional designers, Dr. Sarah Cohen. While remote learning has come to the fore since the pandemic, UWC² has been developing new and engaging ways to bring the UW experience online for years. These remote offerings significantly enhance the accessibility and reach of our history courses.
UWC² leverages the technical expertise and pedagogical experience of its staff to help instructors create courses that make online learning as engaging and effective as possible. The key to successful online courses, according to Cohen, is keeping the students at the center of the learning process. Instructional designers and the media team create interactive activities that allow students to be in control of their own learning, and to build an online community.
In practice, participating in one of these classes entails more than simply watching a lecture online and doing the same types of coursework one might do on campus. Based on extensive research in user experience, they have been carefully designed from beginning to end to keep remote learners engaged. Lecture material is split into 10- to 12-minute chunks, and traditional exams are traded in for progress quizzes and smaller papers. Because students cannot stop the instructors to ask clarifying questions, the mini-lectures are scripted to be as direct and clear as possible, then professionally produced and edited by the media team at UWC². This requires more planning ahead of time, but as Cohen puts it, "That thoughtfulness really pays off in the end."
Both historians took advantage of this format to make effective use of images and art to bring their areas of study alive for students. Instead of simply appearing in a PowerPoint presentation, such images were incorporated into the lessons as fully integrated, interactive components. For example, after a theme was introduced in a short video, the students might then be shown a map or piece of art in digital form, and given time to interact with the image. They might click on details to see annotations and translations, or answer a short quiz that asked them to analyze what they were seeing. "This task-oriented method," in Warren's words, "elicited really impressive levels of engagement."
Readings are also integrated seamlessly into the online courses. Johnson describes this as a particular benefit of the format. "Readings can fall right in the middle of other content. I can introduce an emperor in a video, then have students read an excerpt from the emperor's memoir, and finally proceed to a slideshow highlighting competing historical interpretations of that ruler's policies. This tight integration made the readings much more meaningful for students."
Undergraduates and Access students can look for History of the Islamic World (HSTAFM 162) again in summer 2022, and History of Mexico (HSTLAC 282) in summer 2022 and academic year 2022-23. As Warren emphasized, "These classes were not just intended for the pandemic. They form part of the larger effort to make our department's course offerings accessible to a broader range of students in future."