Submitted by
Madison L Heslop
on April 15, 2020 - 1:02pm
Professor Emeritus William Rorabaugh passed away the morning of March 19 at Northwest Hospital from complications arising from the treatment of non-Hodgkin's lymphoma. Born in 1945, William, known to his colleagues as Bill, was a popular teacher and prolific scholar whose legacy in the department will be felt for many years to come.
Bill began his career as a historian of the Jacksonian period of U.S. history and published his first book, The Alcoholic Republic: An American Tradition (Oxford, 1979), three years after completing his PhD at University of California, Berkeley. After joining the University of Washington Department of History, Bill gradually transitioned to specialize in U.S. political history of the 1960s, a field in which he continued to publish until his retirement in 2019. 
His friend and colleague Michael Allen, professor of history at University of Washington, Tacoma, described Bill as "tireless in his work as a historian—I have no idea how many monographs he produced, but he was prolific. And he changed fields during his career! He started out as a Jacksonian social historian (alcohol, apprentices, dueling, etc.) and ended up in 1960s political history! ... It is not unheard of, but nevertheless unusual, for a scholar to completely retool and learn a new scholarly field, 150 years removed from his original training."
An active member of the department for decades, Bill was often found in the hallways of Smith Hall, dressed in a cardigan sweater and slacks ("his trademark professorial outfit," shared Allen) and always had a story to share. James Gregory, who had known Rorabaugh since their shared time in Berkeley, commented during a faculty memorial that "Bill was so entertaining. The stories he'd tell! That ten-gigabyte mind—he just remembered everything." Mary O'Neil shared memories of Bill visiting her office to discuss two of his other interests: travel and museums. "Bill's secret life was as a historian of European art," she divulged, referring to Gregory's comments, "Just another dimension of that 'ten-gigabyte mind.'" "There was always teaching going on when you spoke to him," Allen reflected.
Known for his "prodigious encyclopedic memory for U.S. political history" and his popularity with both undergraduate and Access students, Bill was also a generous colleague, recalled Margaret O'Mara. Fellow faculty praised his collegial attitude and his many demonstrations of devotion to the department, often expressed in mundane ways such as consistent attendance at faculty meetings. Joel Walker concluded his comments, "What we really learned from Bill was [that] even as we work on our individual projects we all work toward the good of the department."
From department chair Glennys Young: 
Bill Rorabaugh was a distinguished scholar whose contributions ranged broadly over the centuries of American history. He cared deeply about teaching history, about the Department of History, and about the University of Washington. His deep contributions to research, teaching, and departmental and university life will live on. We will honor his memory.
With the support of Bill's family, the department invites friends, students, and colleagues to share memories and stories for a remembrances page dedicated to his memory.
The Alcohol and Drug History Society (ADHS) Executive Committee has established the William J. Rorabaugh Book Prize. The Rorabaugh Prize will be awarded annually to the author(s) of a first or second monograph in the English language in the history of alcohol and drug studies. Contributions to the Rorabaugh Prize fund are tax-deductible and may be made at any point prior to February 28, 2021 to be eligible for the match. Learn more about this prize and how to make a donation on the ADHS website.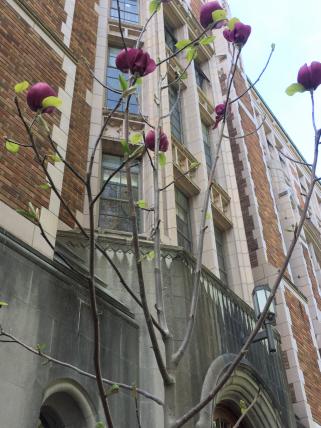 The Department of History planted a Magnolia 'Vulcan' tree next to Smith Hall, underneath Bill's former office window, to celebrate his retirement in 2019. This photo was taken in April, 2020 by Sara Early.