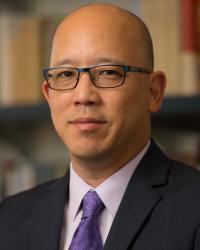 Biography
Scott Kurashige (Ph.D., History, UCLA) is Professor at the School of Interdisciplinary Arts & Sciences at UW Bothell. 
I believe there's an important distinction between "schooling" and "education." Schooling is generally seen as a required act at the K-12 level and a means to qualify for a job at the collegiate level. It's no wonder so many students find schooling to be onerous and tedious. By contrast, I strive to make education meaningful and powerful by understanding its crucial role in catalyzing personal and social transformation.
Drawn to subjects, communities, and perspectives that are too often marginalized or silenced, my teaching focuses on Asian American studies, African American studies, urban studies, activism, and community organizing. The classroom provides a space to explore new ways to analyze difficult social issues, interrogate dominant viewpoints, and continuously think and rethink the purpose of learning. At the same time, critical learning and teaching must go beyond the walls of the university to engage the way we interact with family, community, and society.
Read more about Scott Kurashige's research and work here.