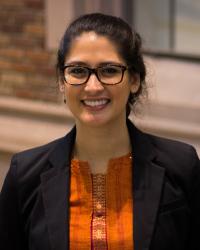 Contact Information
Office Hours:
For ENGL 298G: Wednesdays 11 am - 1 pm or by appointment
Biography
B.A., Anthropology, University of Chicago, 2011
M.A., History, University of Washington, 2017
Katia Chaterji is a PhD candidate of Southeast Asian history at the University of Washington. Her dissertation discusses the relationship between Islam and the performing arts in the making of regional Islamic histories in Sumatra, Indonesia. Her work engages with archival, oral history, and dance ethnographic methodologies.
Previously, Katia worked in the cultural heritage preservation field and in EFL instruction. She is trained in classical Indian dance, and has studied various Indonesian music and dance forms during her time at UW.
Fulbright U.S. Student Research Fellowship to Indonesia, 2019
Chester Fritz Research Fellowship to London, UK, 2018-19
Gething Fellowship, UW Southeast Asia Center, 2018
Foreign Language Area Studies (FLAS) Award for Indonesian (Academic year: 2017-18; Summer: 2017)
Critical Language Scholarship (CLS) for Indonesian (Summer 2016)