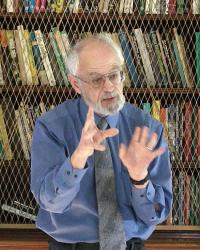 Biography
Ph.D., History, Harvard University, 1972
A.M., Regional Studies--Soviet Union, Harvard University, 1965
B.A.,Physics, Yale University, 1963
Although retired from active teaching in History (and JSIS and Slavic, my other two departments) since 2006, I am still actively involved in research, writing and lecturing on both pre-modern Russia (my original research field) and on Central Asia, especially the historic Silk Roads.
Of my publications on pre-modern Russia, I would single out a monograph in Russian: The History of a Book: Viatka and 'Non-Modernity' in Russian Culture in the Era of Peter the Great (St. Petersburg, 2003), which uses a micro-historical approach to raise larger questions about the supposed "modernization" of Russia in the late 17th and early 18th centuries and the place of provincial culture and history writing in the generally better known histories of cultural change in that period. The book benefits from my particular interests in textual criticism and codicological study of early Russian manuscripts. Nearing completion is a book (co-authored with a Slavic linguist at Uppsala University in Sweden, Ingrid Maier) on Russian acquisition of foreign news in the 17th century, a project that to date has produced several articles.
My Central Asia interests are broad, ranging from the historic Silk Roads (about which I taught at UW for many years) and archaeology in Mongolia to the history of the "Great Game" rivalries of the 19th and early 20th centuries and civil society issues today. I continue to edit and write extensively for The Silk Road (the annual of the Silkroad Foundation), give frequent public presentations on the subject (a number of them for the Seattle Asian Art Museum), and plan eventually to finish a book of essays on Eurasian exchange. Several of my articles from the journal have appeared in Chinese translation; I am translating Russian archaeological reports into English for publication in a series on Asian archaeology at the University of Bonn in Germany. A Mellon Emeritus Fellowship in 2010 supported study/travel at Silk Road sites in the Middle East (Iran, Syria, Jordan, Turkey), supplementing my extensive travel, study and excavation in China, Central Asia and Mongolia. On recent trips to the United Kingdom, I lectured at the universities of Oxford, Cambridge, Aberdeen and Durham, and at the Royal Geographical Society in London.; in 2016 and 2017, I presented at conferences in Seoul and in Kazan (Tatarstan, Russia) Part of my Silk Road-related activity involves contributing to the teaching of world history and to educational websites, especially "Silk Road Seattle" <http://depts.washington.edu/silkroad/>, whose resources are widely used in classrooms around the world. My photographs have illustrated a wide range of publications; a major collection of them is currently being added to the archive of ArchNet, the Aga Khan Program in Islamic Architecture at MIT..
My third ongoing book project is to edit a collection of the writings of C. P. Skrine, who was British Consul in Kashgar (Xinjiang, China) in 1922-1924 and left behind an extensive collection of letters, descriptive material and photographs.