Submitted by
Madison L Heslop
on May 11, 2020 - 8:48am
Graduating in the middle of a pandemic is a difficult situation for students. For the history department, this makes celebrating the work and accomplishments of our graduating seniors especially important. 
One of those students is Racquel West, a double major in history and geography whom the university recognized this week as one of this year's Husky 100. The Husky 100 program honors the accomplishments of 100 outstanding undergraduate and graduate students from the University of Washington's Bothell, Seattle, and Tacoma campuses.
"Graduating in the middle of a pandemic is sad," shared Racquel when asked about her feelings on graduation. "It's disappointing because I really wanted to celebrate with everyone. I really love the history department. I love the geography department. I love American Indian Studies. And I wanted an opportunity to say that to everyone and make it clear how much I appreciate them." She smiled and continued, "It's kind of cute that I get to do that in the newsletter now instead." The University of Washington will be organizing a remote ceremony for graduating students.
History PhD student Madison Heslop spoke with Racquel about her experience in the history department and her plans after graduation.
Madison Heslop: How did you decide to major in history?
Racquel West: I started in the sciences but I took a cross-listed undergrad/grad history course on Hiroshima and Nagasaki during my freshman fall quarter and really liked what we were learning and talking about in the class. One of the grad students recommended I take Professor Josh Reid's HSTAA 210 course on American Indian history ["Inconvenient Indians and the 'American Problem': American Indian History since 1815"]. Should I say you were the grad student?
M.H.: You can if you like.
R.W.: We've known each other for four years! Taking that class solidified my interest and passion for the way history as a discipline examines power.
M.H.: Have you had any other favorite classes?
R.W.: I really liked HSTAA 308 ["American Indians and the Environment"] with Reid. We were very book-heavy in that class, and had the opportunity to discuss and analyze the books in a way I enjoyed. Jorge Bayona's HSTLAC 385 ["Colonial Society and the Negotiation of Rule in Latin America and the Caribbean"] was great. I didn't know anything about Latin American history going in, and it was a really enjoyable, straightforward class with a great lecturer.
M.H.: How did you go from there to your recent research and your work at the Burke Museum?
R.W.: I ended up focusing on Indigenous history, which translated to my honors history thesis. I basically merged my two majors in history and geography by talking about the Suquamish Museum through a lens that prioritized the geographical relationship between the museum and Suquamish reservation. I did this by thinking about how to reinforce and perpetuate Suquamish sovereignty in a study of the spatiality of representations. Sorry if I'm getting too "geographic." Every week I took a trip to the Suquamish archives and spent a lot of time in the museum and just being present on the reservation. My research has given me real experience with museum spaces and how they relate to Indigenous knowledge and sovereignty, which I now use in my job at the Burke.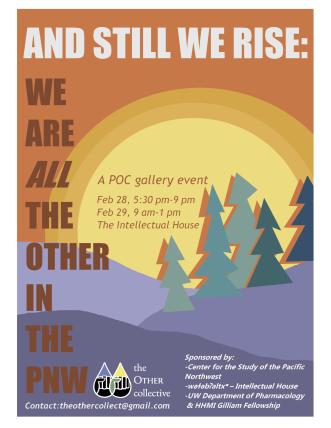 M.H: You organized a student exhibit at wǝɫǝbʔaltxʷ Intellectual House back in February, "And Still We Rise: We Are All the Other in the Pacific Northwest." How did that come about?
R.W.: For about a year, I worked on an idea of a pop-up POC [people of color]  art gallery meant to highlight the similarities and differences of POC experiences in the Pacific Northwest. This was funded by a grant from the Center for the Study of the Pacific Northwest. I really valued the collaboration between the leadership team and all the students. Arranging the space we had in the Intellectual House together made the gallery more meaningful.
M.H.: What are your plans for the future?
R.W.: My job at the Burke is grant funded and has been extended to June 2021. After graduation I will be completing that and then moving to Santa Fe. There is an internship there at the School for Advanced Research I want to pursue, and the school is a hub of Native art in the Southwest. I intend to get a PhD in museum studies to continue my work on shaping museum spaces to reflect non-white perspectives.
In addition to being named one of the Husky 100 for 2020, Racquel is the editor in chief of Plenum: The Undergraduate Geography Journal and a two-time recipient of the Chester William Fritz Scholarship for the 2018-2019 and 2019-2020 academic years. The scholarship is designed to provide financial assistance to highly deserving students in the humanities.